'The UnderGlass' – a 3D painting located in the public escalator hall of the Centre of Glass Heritage in Krosno – is the first durable indoor painting of this type in Poland. It is 80 m2 large and is located on the floor of the room. It was painted by Ryszard 'Ryho' Paprocki – architect and artist from Cracow – and the subject of the work corresponds to the leading profile of the Centre's activity, presenting the process of glass-blowing which is the most traditional method of producing glass. 'The UnderGlass' has the form of an additional underground level of the building. The aim of this unique project is to promote both the 90-year-old tradition of glass-working in Krosno and the unknown and underestimated art of glass production.
In spite of its street-art nature "UnderGlass" is a unique work. Paprocki made use of many sophisticated techniques with Renaissance ones, the same that the very Da Vinci used to apply, among others. It is a masterpiece, and a terrific attraction for tourists at the same time, as this is a painting on which you not only can but must step on. The composition of the painting has been enriched with a few bridges, shelves and a rope hanging over the glass-blowing studio. They are meant to entertain and people posing for photos should head for this areas.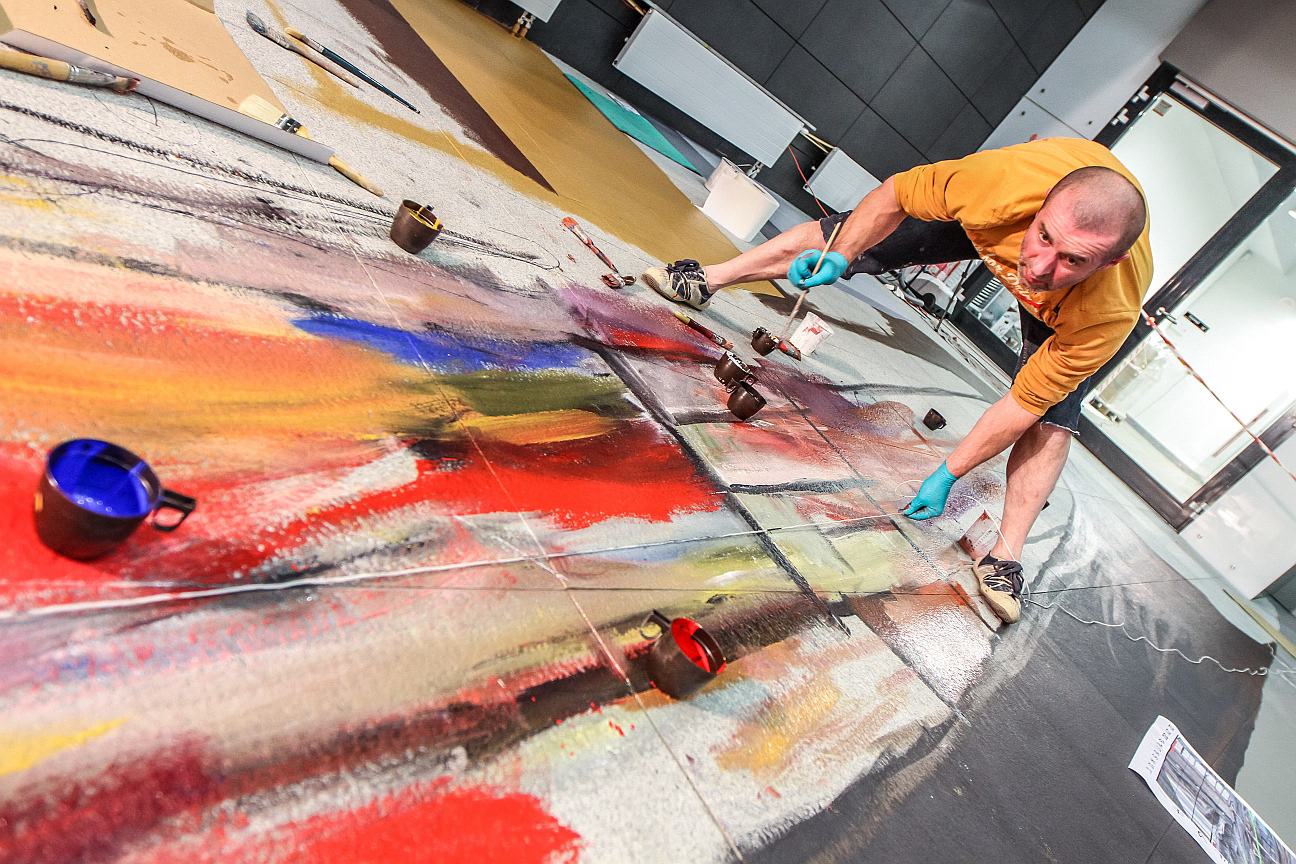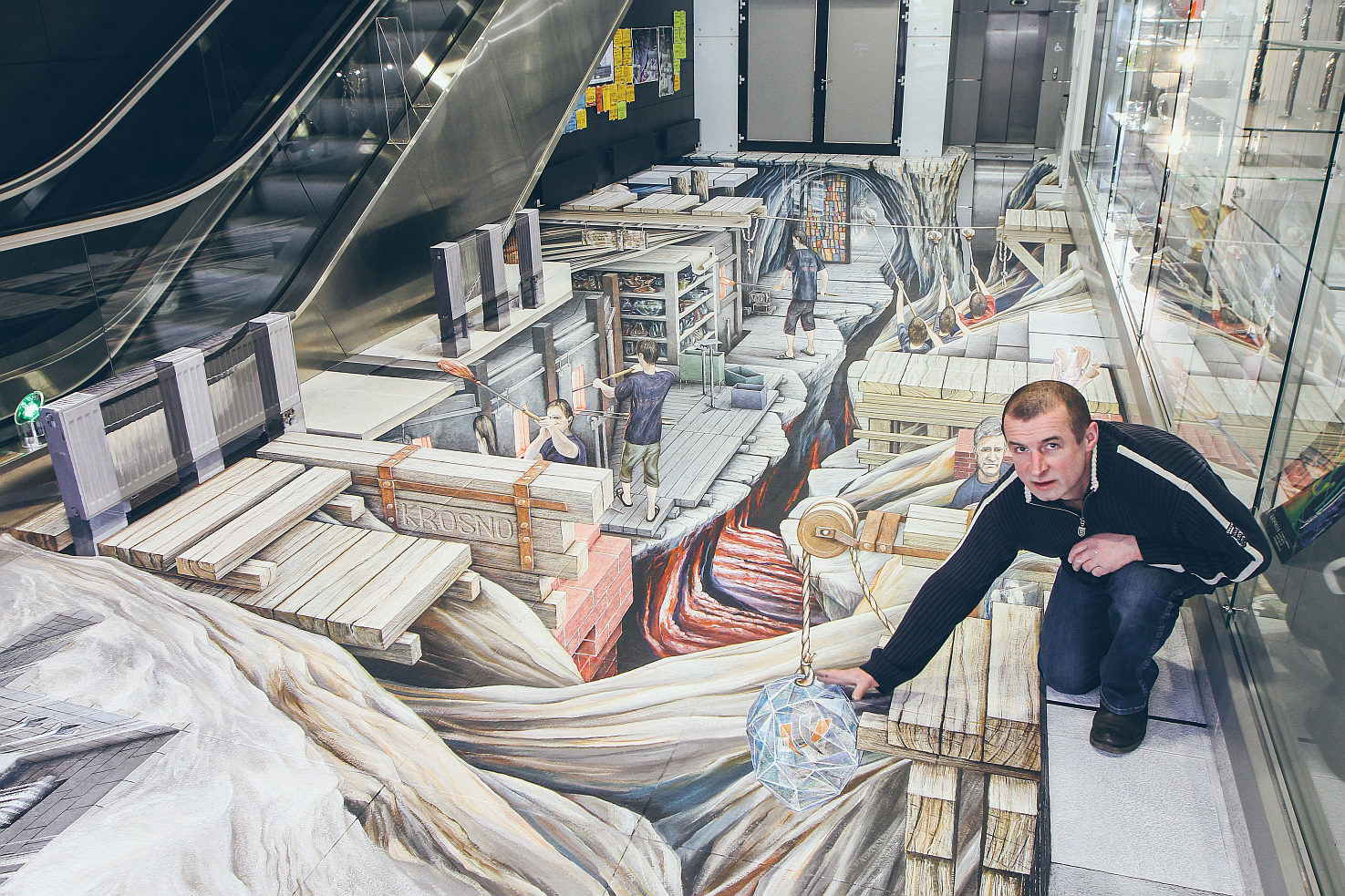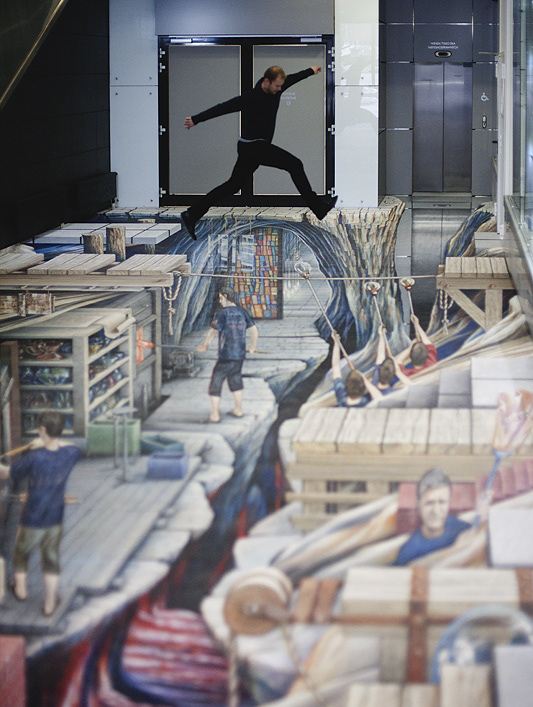 'TheUnderGlass' combines two 3D arts – 3D painting and 3D mapping. Multimedia projections prepared by Tving Stage Design on a 3D painting. 3D street and 3D video art has never come together in one project! It is a truly 3D squared art!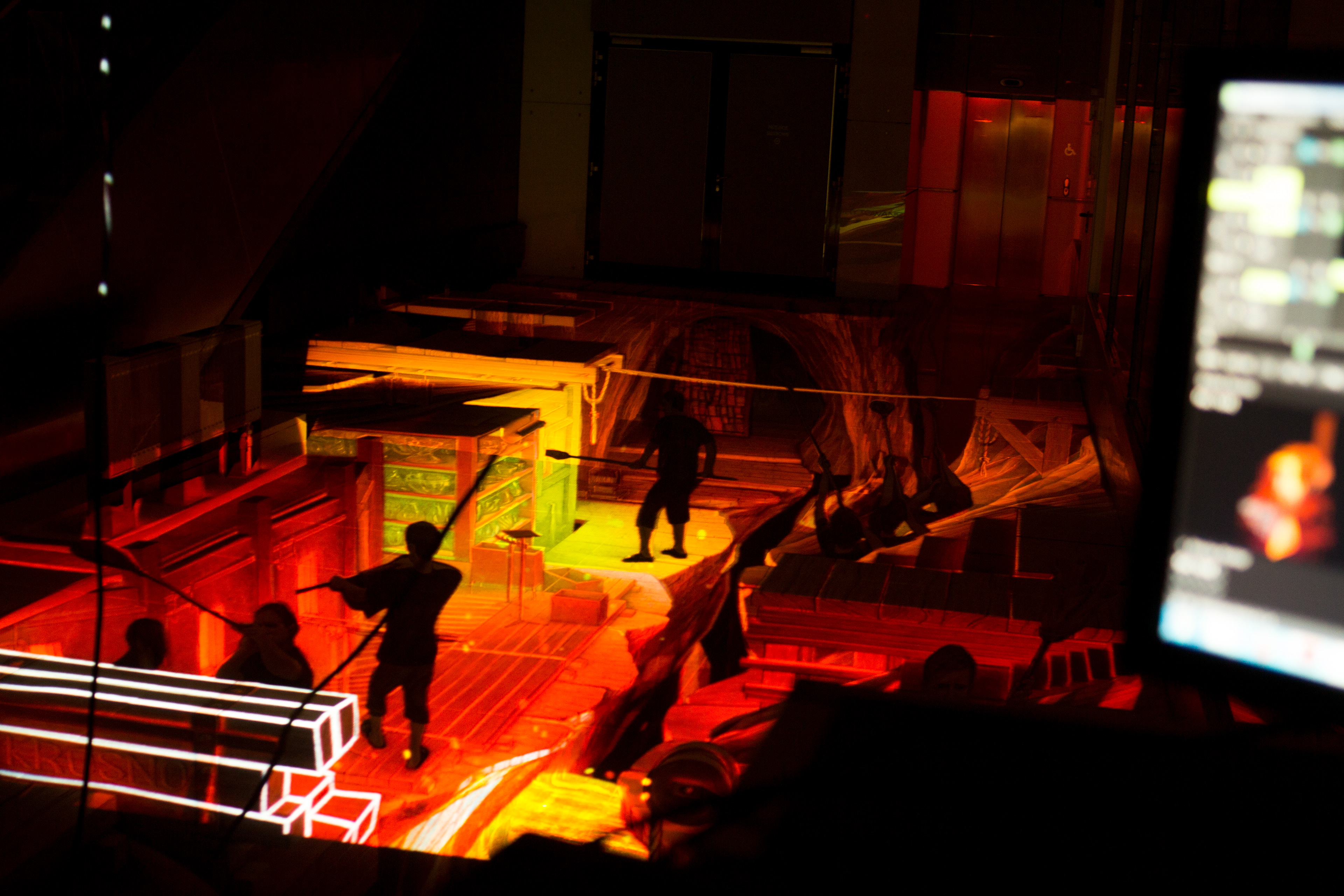 "The UnderGlass" is a street art inspired unique project. While creating this painting author Ryszard "Ryho" Paprocki used some of the Renaissance drawing techniques from master Leonardo da Vinci. It's a real work of art and at the same time a fantastic tourist attraction because "The UnderGlass" is a painting that on which you should, or shall we say must walk! Project "The UnderGlass" combined two fields of 3D art - 3D painting and 3D mapping. Multimedia projection on 3D painting was created by Tving Stage Design is the first of its kind in the world - a

child

of street art and video mapping.
The 3D-mapping projections are presented on Saturdays during spring and autumn-winter seasons. One show lasts 5 minutes or so and is looped so that as many spectators as possible can see it, because a single show can be watched by a limited amount of people.
"The UnderGlass INTRO Dance" - Tving Stage Design decided to face video mapping with anamorphosis creating abstract background for Cracow dancer Ania Wańtuch. This anamorphic mapping became futuristic story that was experienced only during the official opening of "The UnderGlass" painting.
"The UnderGlass Dance" it's form of instruction for anamorphic floor painting by Ryszard "Ryho" Paprocki. Cracow dancer Ania Wańtuch in extreme way proofs hidden kinetic potential in this static painting. It's art combined from gesture, motion, steps and emotions to conquer our subconscious with incredible sounds from Ólafur Arnalds.
Credits:
Year: 2013
Client: Centrum Dziedzictwa Szkła 
Place: Poland, Krosno, CDS Glass Heritage Center
3d graffiti painting: Ryszard "Ryho" Paprocki
Directed, Concept, 3D video mapping: Tving Stage Design
Motion design: Patryk Zimończyk
3D animations, modeling: Tomasz Gawroński
Dancer: Ania Wańtuch
Music:
Camera crew: Damian Krzanowski "Filer", Tomasz Gawroński
Edited by: Patryk Zimończyk and Tomasz Gawroński
Substantive cooperation: Dawid Iwaniec, Katarzyna Solińska, Ryszard "Ryho" Paprocki
facebook.com/TvingStageDesign 
http://www.miastoszkla.pl/
http://www.theunderglass.blogspot.com/